To make conversions work in Google Ads you first will need to enable auto-tagging in Google Ads. For more information check out Tracking Google Ads.
Note: To be able to tracking conversion in Google Ads you will have to use keyword level call tracking.
Google Analytics Integration
In your WhatConverts dashboard go to "Integrations" in the left side menu and select "Google Analytics". Select "Add Tracking ID" for your Google Analytics profile. Add your "Tracking ID" and click "Add".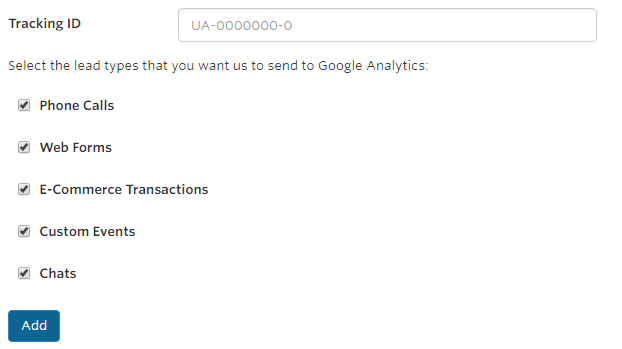 If you need help finding your "Tracking ID" go to Where is my Google Analytics Tracking ID? for more information.
After setting up the Google Analytics integration WhatConverts will send events based on phone calls to your Google Analytics account. Once you are sending events to your Google Analytics account you can then setup a goal that will trigger when a phone call is made.
Google Analytics Goals
First, go to your Google Analytics dashboard, and select the property that you used to integrate with. Click on "Admin", then "Goals" under the view you would like to use.
Select "Create a New Goal" to setup a new goal.

Select "Custom" as the Goal Type. Set the name as "Phone Call" and goal type as "Event". In Goal Details set the "Category" equals to "Phone Call". Click "Save". You are now tracking phone calls as goals in Google Analytics.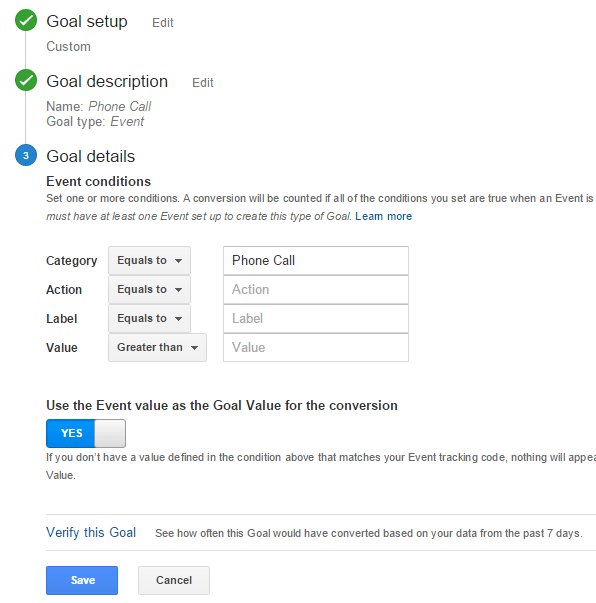 Google Ads Conversions
In your Google Ads account select "Tools" at the top then "Conversions" from the drop down. On the next page select "Google Analytics" on the left and select the goal named "Phone Call" that we just created.
Note: Conversions from goals imported from Google Analytics may have up to a 48-hour delay before showing up.
For more information see our blog post: Google Ads Conversion Tracking: Native Integration & Google Analytics Conversion Tracking