This document will walk you through setting up the integration between the YouCanBook.me appointment calendar embedded on your site and your WhatConverts account.
Note: If you haven't added your WhatConverts tracking code to your website, add your tracking script. If you are using the WhatConverts WordPress Plugin, you will want to deactivate the plugin and place your WhatConverts Tracking Code above your YouCanBook.Me Embed Code.
1Sign into YouCanBook.me and "Edit" your calendar. On the left side, select "Booking Form".
2Select "+ Add question" under your Booking Questions. Under Type select "Hidden Question" from the drop down. Under Shorthand code. Type in UTM_SOURCE. Click "Save Changes".
Repeat this step for each of the following Shorthand codes.
UTM_SOURCE
UTM_MEDIUM
UTM_CAMPAIGN
UTM_CONTENT
UTM_KEYWORD
MSCLKID
GCLID
USER_ID
3On your page where you have your YouCanBook.me calendar embedded, add the following script below your embed code:
<script type="text/javascript">
var final_url = 'IFrame Source URL';
var cookie = oqhaqzwnbjgcpycneryg('wc_client');
    var source='',medium='',campaign='',content='',keyword='',gclid='',landing_page='',user_id='',msclkid='';
if (cookie) {
    var cookie_parts = cookie.split('+..+');
    if (cookie_parts[0])
        source = 'UTM_SOURCE='+cookie_parts[0];
    if (cookie_parts[1])
        medium = 'UTM_MEDIUM='+cookie_parts[1];
    if (cookie_parts[2])
        campaign = 'UTM_CAMPAIGN='+cookie_parts[2];
    if (cookie_parts[3])
        content = 'UTM_CONTENT='+cookie_parts[3];
    if (cookie_parts[4])
        keyword = 'UTM_KEYWORD='+cookie_parts[4];
    if (cookie_parts[5])
        gclid = 'GCLID='+cookie_parts[5];
    if (cookie_parts[7])
        user_id = 'USER_ID='+cookie_parts[7];
    if (cookie_parts[8])
        msclkid = 'MSCLKID='+cookie_parts[8];
    if (source) {
        if (final_url.indexOf('?') > -1)
            final_url += '&';
        else
            final_url += '?';
        final_url += source;
    }
    if (medium) {
        if (final_url.indexOf('?') > -1)
            final_url += '&';
        else
            final_url += '?';
        final_url += medium;
    }
    if (campaign) {
        if (final_url.indexOf('?') > -1)
            final_url += '&';
        else
            final_url += '?';
        final_url += campaign;
    }
    if (content) {
        if (final_url.indexOf('?') > -1)
            final_url += '&';
        else
            final_url += '?';
        final_url += content;
    }
    if (keyword) {
        if (final_url.indexOf('?') > -1)
            final_url += '&';
        else
            final_url += '?';
        final_url += keyword;
    }
    if (gclid) {
        if (final_url.indexOf('?') > -1)
            final_url += '&';
        else
            final_url += '?';
        final_url += gclid;
    }
    if (msclkid) {
        if (final_url.indexOf('?') > -1)
            final_url += '&';
        else
            final_url += '?';
        final_url += msclkid;
    }
    if (user_id) {
        if (final_url.indexOf('?') > -1)
            final_url += '&';
        else
            final_url += '?';
        final_url += user_id;
    }
}
document.getElementById('IFrame ID').src = final_url;
</script>
Replace the "IFrame Source URL" with the iframe src URL and "Iframe ID" with the id from your YouCanBook.Me Embed Code.
4Go to Zapier and create a zap with "YouCanBook.Me" as your Trigger app and "New Booking" as the Trigger Event. Connect your YouCanBook.Me account and click "Continue".
On the Find Data section select "Get Samples". While Zapier is looking for new samples, go to your page with your YouCanBook.Me calendar, fully refresh your page and submit a test booking.
Go back to Zapier, review the bookings by selecting the grey down arrow and select the "Radio Button" next to the test submission you sent through.
5Add an Action Step with "WhatConverts" as the Action App and "Create Lead" as the Action. Connect your WhatConverts account.
Set up your WhatConverts Lead with the following:
Lead Type: "Web Form"
Profile: Select your WhatConverts Profile
Referrer Source: "UTM_SOURCE"
Referrer Medium: "UTM_MEDIUM"
Referrer Campaign: "UTM_CAMPAIGN"
Referrer Content: "UTM_CONTENT"
Referrer Keyword: "UTM_KEYWORD"
IP Address: "IP address the booking was made from"
USER ID: "USER_ID"
GCLID: "GCLID"
MSCLKID: "MSCLKID
Additional Fields: Add any additional fields that you will want to track. Click "+" to add any additional fields.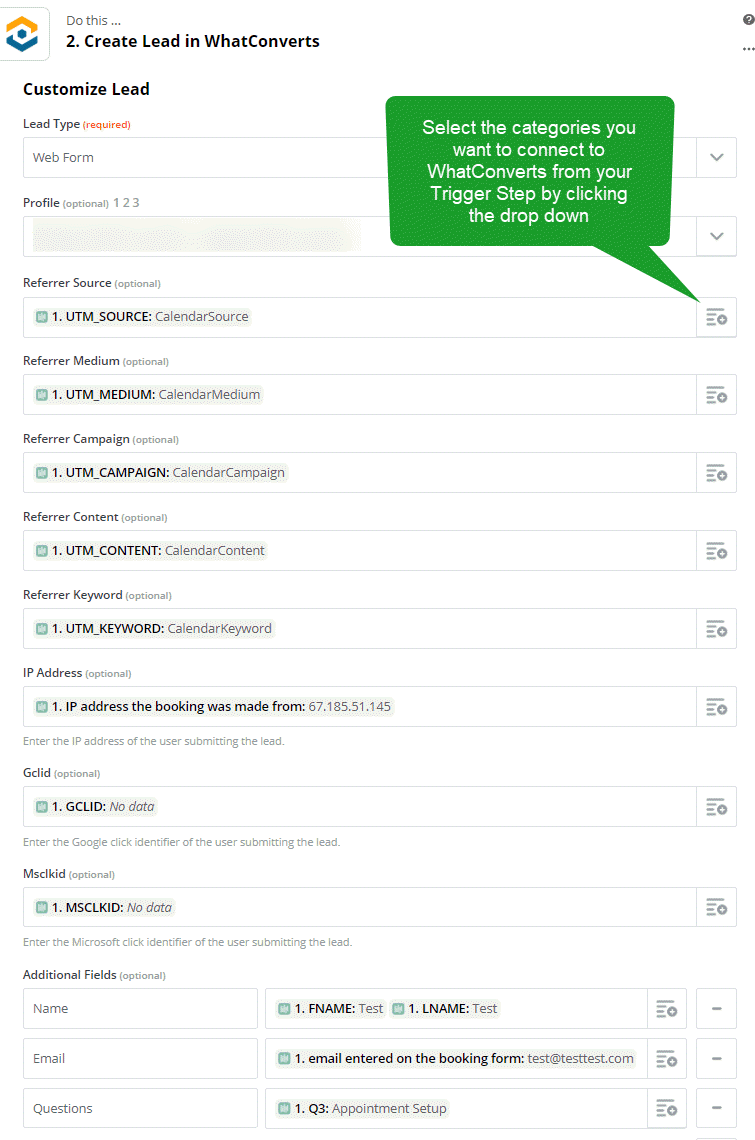 Click "Continue". Click "Test & Continue" to send your test lead to your selected WhatConverts profile. Give your Zap a name and turn your Zap "On".