Follow these simple steps to track Cognito Forms web forms in WhatConverts.
Add the WhatConverts Tracking Script.
If you haven't already added your WhatConverts tracking script to your website, install your tracking script.
Embed and Add a Form Class to your Cognito Form
1On the page you would like to place your Cognito Form, use the "Seamless" method to embed the form.

2On the same page where your Cognito Form is embedded, add the following script after the form on your page.
<script type="text/javascript"> var observer = new MutationObserver(function(mutations) {
mutations.forEach(function(mutation) {
let fe = document.querySelectorAll('form');
if (fe) {
for (i = 0; i < fe.length; i++) {
fe[i].classList.add('contact-form');
}
}
});
});
observer.observe(document, { childList: true, subtree: true });
 </script>

Setup the Cognito Form in WhatConverts.
1Login to WhatConverts and select your account and/or profile. If you have only one profile this will be selected automatically.
2Select "Tracking" from the left side menu and then click on "Web Forms".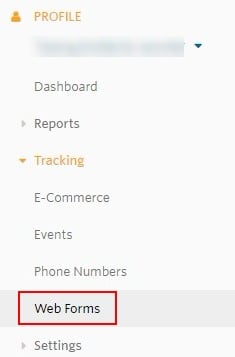 3Click the green "Add Web Form" button, and select "Advanced Integration" from the pop up.



4Enter a "Form Name" that matches the form that you want to track.
5Select Attribute Type "Class".
6Under Attribute Type Value type "contact-form" and click "Add"

Test the form
Test your form by fully refreshing the page your form is on (Ctrl + F5 on Windows), filling in the form on your website and submitting; return to the WhatConverts dashboard and refresh the dashboard.
The new form submission should appear in your dashboard now.