WhatConverts allows you to connect your Unbounce account. Once connected, WhatConverts will send conversions based on leads tracked in WhatConverts to your Unbounce account.
Leads will be attributed to the correct variant of your Unbounce landing page(s).
Before you can send conversions to Unbounce, you will need to make sure you have followed the steps on our Call Tracking for Unbounce help article to install your WhatConverts tracking code on your Unbounce page(s).
1Select the account and/or profile you would like to setup in your WhatConverts dashboard. Click on "Integrations" and select "Unbounce" from the left-hand menu.
2Click on "Add Connection" which will send you to Unbounce to authorize WhatConverts to send conversions to your account. Click "Authorize".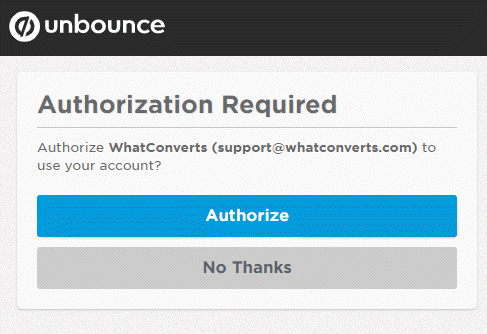 3Choose which types of leads you would like for WhatConverts to send to Unbounce as conversions and select when to trigger the conversions to be sent to Unbounce.
Note: By default, the new lead option is selected which will trigger when a new lead is received. The sales value option will trigger when a sales value is received with a new lead such as e-commerce transactions or when a sales value is added to a lead after it has been received.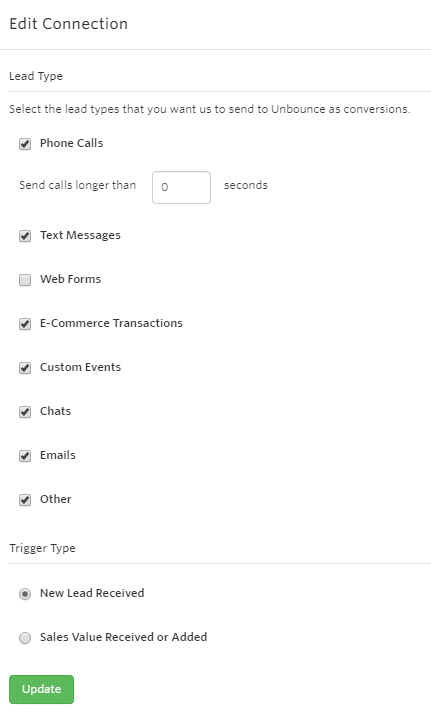 Click "Update".
Note: It may take up to 72 hours before conversions show up in Unbounce reporting.