Post Call Flows equip your sales team members with the ability to quickly qualify and gather feedback from an incoming call as soon as the call ends with just the push of a few buttons.
You can apply a Post Call Flow to any Dial Step of an incoming call flow.
1Log in to your WhatConverts Dashboard. Under Profile, select "Tracking", "Phone Calls". When the Phone Calls drop down opens, select "Call Flows".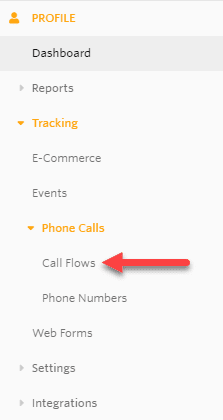 2At the top of the page, select "+ Add Post-Call Flow" located in the middle of the page.
3After the Caller Hangs Up step, click "+" to add a new Action Step. Select one of the following to gather data from the call:
"Menu" - A menu step directs your call recipient into a menu of options.
"Message" - A message step plays a message you would like the call recipient to hear.
"Schedule" - A schedule step can schedule different post call flow options for specific times or days.
"Lead Data" - The lead data step prompts your call recipient to enter Quote or Sales Value information in their post call flow.
Once you have set the steps you would like to use, scroll to the top of your Post-Call Flow, give it a name and click "Save Call Flow".
4To apply the Post-Call Flow to your incoming call flow actions, click the "gear icon" next to the Incoming Call Flow that you would like to apply your Post-Call Flow to. In your Dial module(s), click the "Edit" icon in the top left of the module. Under Post-Call Flow, select "Yes" and select the Post-Call Flow you would like to use from the drop-down menu. Click "Update".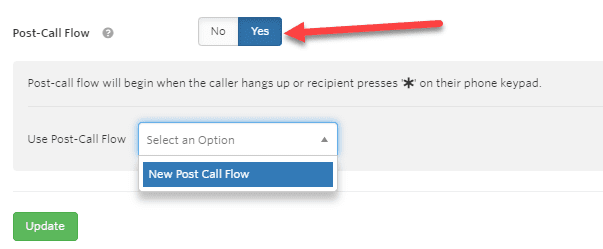 Repeat this step for each Dial module in your Incoming Call Flow you would like to apply the Post-Call Flow to.