Set up Field Mapping in WhatConverts
1Log into your WhatConverts dashboard. On the left-side menu, pick the Account and Profile you want to send leads from. Under Profile select "Settings" then "Field Mapping".
2Click "+ Add Field Mapping Value" to add any values that you will want to send to Freshsales.
Ex: You are tracking a form that has separate first name and last name inputs. You will need to create a First Name mapping value and a Last Name mapping value.
See our Mapping Fields document for full Field Mapping information.
Send Leads to Freshsales
1Go to Zapier and click "Make a Zap". Select "WhatConverts" as the Trigger app and "New Lead" as your trigger type and click on the "Save + Continue" button.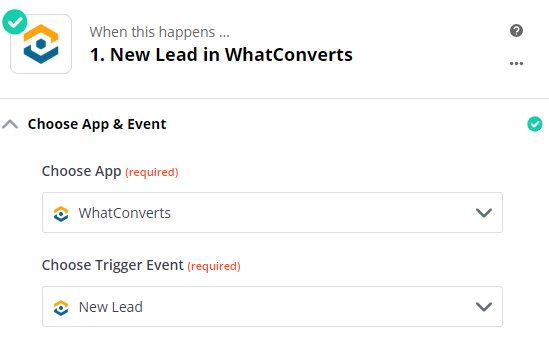 Connect your WhatConverts account and click on the, "Save + Continue" button. Allow Zapier to access your WhatConverts account by entering your API Token and API Secret.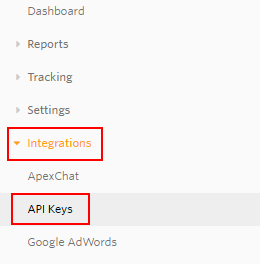 On the Customize Lead page, select "Yes" for Phone Calls (completed) and leave all other fields as "no". In the final drop-down menu, select the WhatConverts Profile you would like to integrate with Freshsales and click "Continue".
Note: The Phone Calls (completed) trigger will allow you to append call recording URLs and duration information on the calls. If you would like to send your calls to Salesforce as soon as the call comes in, select "Yes" for Phone Calls (in progress) as your trigger. Only choose one Phone Call trigger; selecting both Phone Calls (completed) and Phone Calls (in progress) will send duplicate leads into Freshsales.

2Create an "Action" by choosing an Action App. Search and select "Freshsales" from the list of apps. Create a lead to pass by selecting the, "Create Lead" option from list of actions and click on the, "Continue" button. Connect your Freshsales Account, click "Save & Continue".
On the Edit Template page, fill in the template with the following:
Last Name: Mapped Fields Contact Name
City: Caller City
State: Caller State
Phone Number: Mapped Fields Phone Number
Keyword: Keyword
Lead Type: Select "Custom" then choose Lead Type
Recent Note: Type in then select "Source", "Medium", "Campaign", "Content", "Lead URL" and "Landing URL".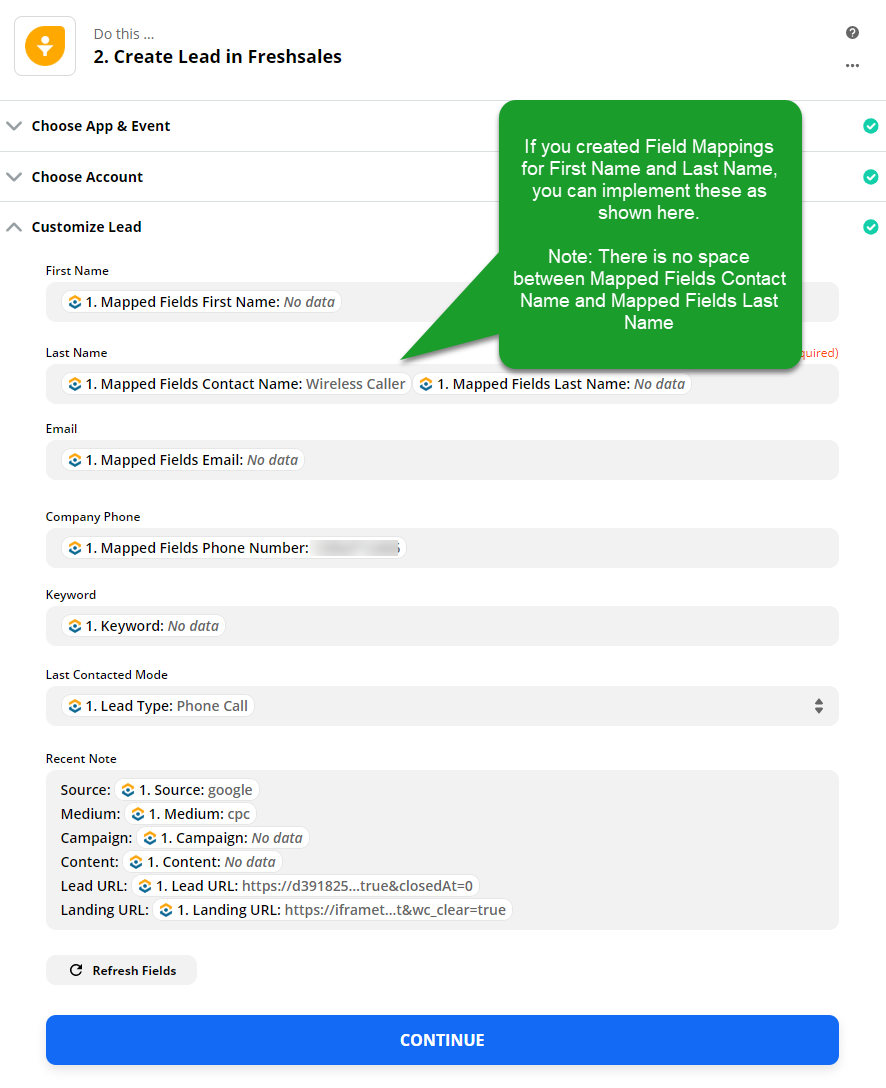 Click "Continue" and continue through sending a test contact to Freshsales.
3Check Freshsales for your new imported lead.