A Call Greeting is an automated greeting to a lead calling a WhatConverts tracking number.
Call Whispers are played to the receiving party (person answering the phone) when they answer the phone, and before being connected with the caller.
You can set Call Greetings and Whispers in the Tracking Number settings. Call Whispers can also be set in the Dial step of an incoming Call Flow.
1To enter a Call Greeting, or a Call Whisper, log onto your WhatConverts dashboard, click "Tracking" then "Phone Numbers" on the left side menu.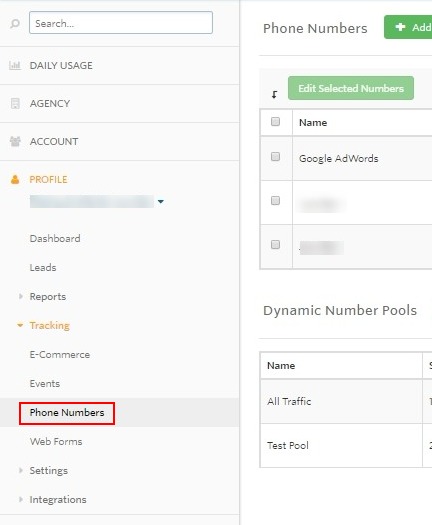 2Find the phone number you wish to add a Greeting or Whisper to, and click "Edit Number" at the end of the row.

3In the prompt, select "None", "Say Message" or "Play Recording" for Call Whisper and/or Call Greeting. Here, you can type out a message that will be read (Say Message) or upload a mp3 recording (Play Recording).
Additionally, when using the "Say Message" prompt, you can dynamically insert one of the following variables into your Call Greeting or Whisper:
Source, Medium, Campaign, Content, Keyword, Phone Number Title, Quotable Status, Repeat Caller or Repeat Lead
In the Call Whisper example below, the call recipient will hear the Source and Keyword when they pick up the call.

4Scroll to the bottom of the page and click "Update".