Using Zapier, you can track your Google Lead Forms alongside all your website forms right in your WhatConverts dashboard.
1Log into Google Ads, navigate to your Google Lead Form Extension by selecting "Ads & Extensions". At the top of the page, select "Extensions". Locate your Lead Form Extension and click "Edit".

2Scroll to Lead delivery option and select the "down arrow" to expand the menu.
3Go to Zapier and "Make a Zap". Select "Google Lead Form Extensions" as your Trigger App and "New Lead" as the Trigger click "Continue". "Copy" the Webhook URL.
4Go back to Google Ads and "Paste" the Webhook URL in the Webhook URL field.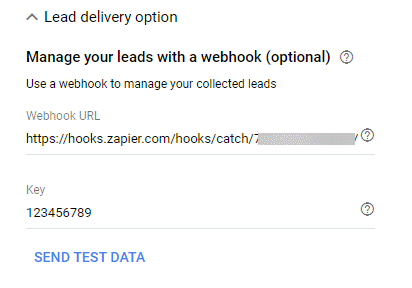 Enter a Key into the Key field that will be sent with your Lead Data. Click "Send Test Data" and click "Save" to save your settings.
5Go back to Zapier and click "Continue" on the Set Up Webhook page. Click "Test & Review" to get your Sample Data from Google. Select the radio button next to Lead A and click "Done Editing'.
6Click "Do This..." and select "WhatConverts as your Action App and "Create Lead" as your Action Event. Click "Continue". Choose your WhatConverts Account or Add your WhatConverts Account and click "Continue".
Note: If you have not set up a WhatConverts account in Zapier, you can follow the detailed instructions in Connecting to Zapier.
On the Customize Lead page, set up your integration with the following:
Lead Type: Select "Web Form" from the drop-down.
Profile: Select your "WhatConverts Profile" that you would like to receive your Google Lead Form data.
Referrer Source: Type "google"
Referrer Medium: Type "cpc"
Referrer Campaign: Select "Campaign ID" from the Insert a Field drop-down
Form Name: Type "Google Lead Form Extension"
Scroll toward the bottom, under Additional Fields, in the first box type the Input Field that you're collecting from Google Lead Form Extensions and select the corresponding data point from the Insert a Field drop-down menu. In the example below, we are collecting Phone Number, Name and Email.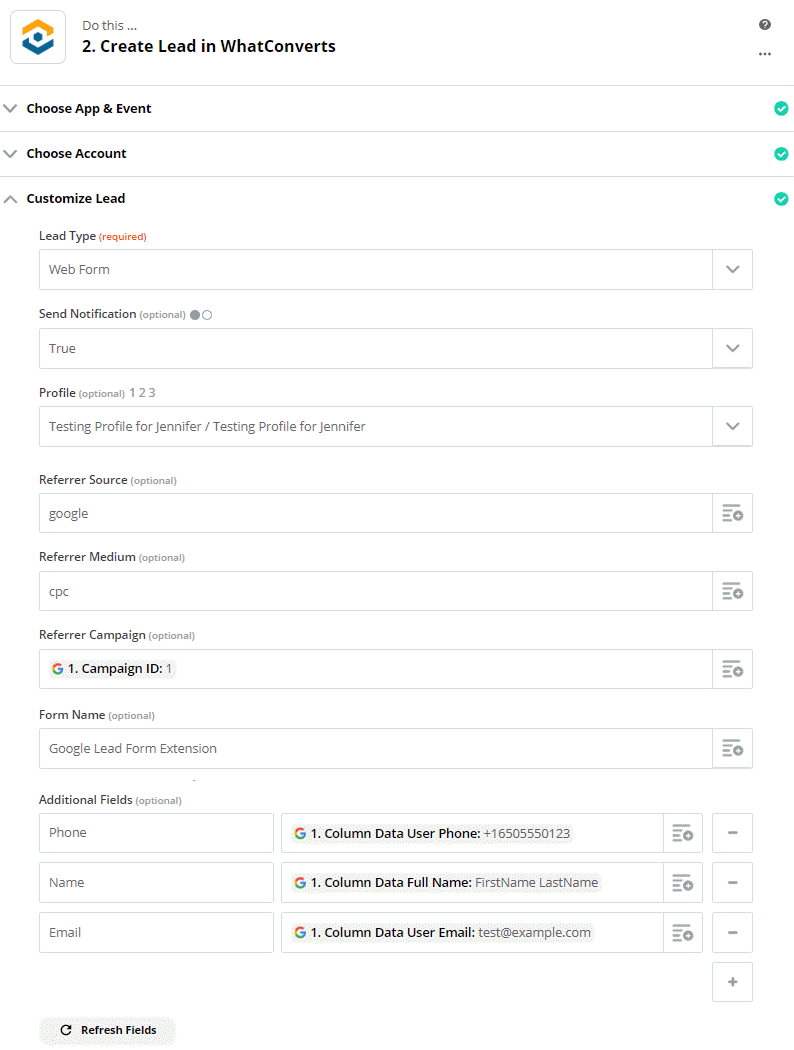 Click "Continue". On the Send Data page, select "Test & Continue" to send your test data to your WhatConverts profile. Give your Zap a Name and turn your Zap "On".