You can push your WhatConverts leads using Zapier into Google Sheets to instantly update your existing Google Sheets document with new, incoming leads.
1Go to Google Sheets and create a new spreadsheet to import your leads into.
2Rename your spreadsheet to an easily recognizable name and fill out first row with the Lead Details you wish to import. In the example below, I have used the following (you can create as many as you would like):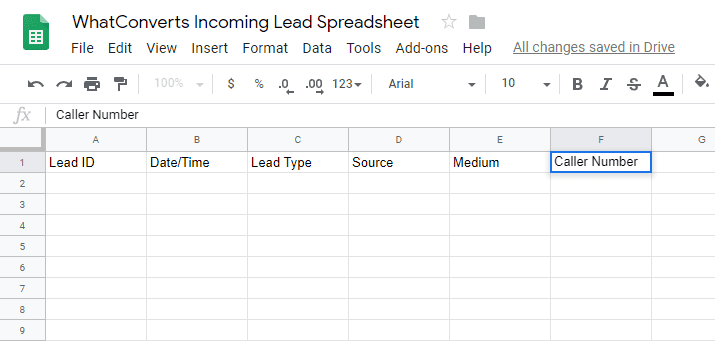 Lead ID
Date/Time
Lead Type
Source
Medium
Caller Number
3Go to Zapier and click "Make a Zap".
4Select "WhatConverts" as your Trigger App and "New Lead" as your Trigger. Click "Save + Continue".
Connect your WhatConverts account (if you need instructions on how to connect your WhatConverts account see: Connect to Zapier). Click "Continue".
To set up your WhatConverts Lead, select "Yes" for all of the lead types you would like to send to your Google Sheets spreadsheet. Click "Save + Continue".
Note: Make sure to select "No" for Phone Calls (In Progress) or Phone Calls (Completed). This will make sure that the phone calls aren't duplicated on your Google Sheets Spreadsheet.
On the Pick A Sample To Set Up Your Zap page, click "Get Samples" to get a sample lead from your WhatConverts account. Select the sample lead you would like to set up your spreadsheet with and click "Continue".
5Click "+ Add a Step" and select "Action/Search". Select "Google Sheets" as your Action App and "Create Spreadsheet Row" as your Action. Click "Save + Continue".
Connect your Google Sheets Account your spreadsheet was created in. Click "Save + Continue".
On the Set up Google Sheets Spreadsheet Row page, select your "Spreadsheet" and "Worksheet" from their respective drop down menus. Match the additional fields to the WhatConverts lead selected in the Trigger Step of the Zap.