Push your Facebook Lead Ads into WhatConverts as new leads. All you have to do is use Zapier to connect both applications.
Note:
You must have a Zapier account and have an active ad in Facebook Ads Manager. You will also need to accept the WhatConverts
Zapier invite link, to add WhatConverts to your Application list in Zapier.
1Log into your Zapier account and select the "Make A Zap" button.


2Select "Facebook Lead Ads" as your Trigger App. Select "New Leads" as your Lead Ads Trigger. Connect your Facebook Leads Ad Account. Select the Page of your Facebook Lead Ad and Form of Your Facebook Lead Ad from the drop-down menus. Test the step and click "View Your Lead". You will be using that data as a sample for setting up the rest of your Zap.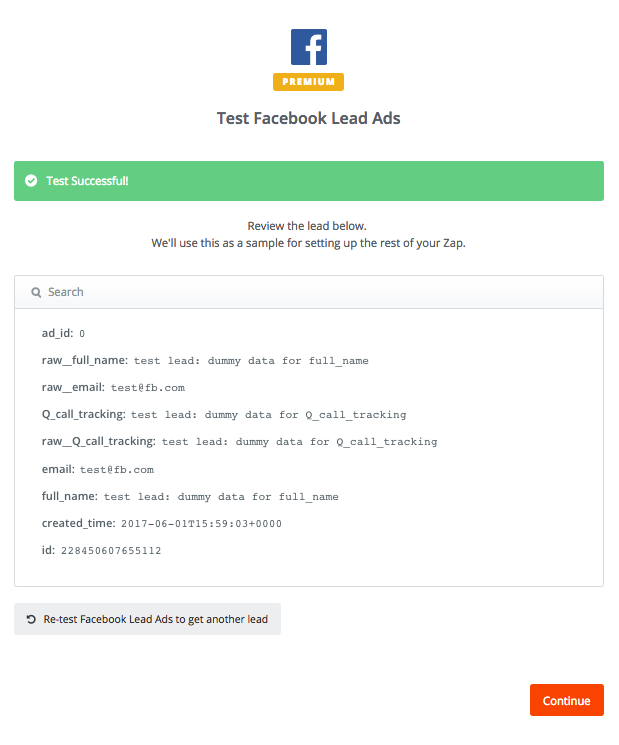 3 Select "WhatConverts" as your Action App. Select "Create Lead" and connect your WhatConverts account. Set up the WhatConverts Lead Template with the field values below:
Note: Use your own lead information as values within the fields.
Lead Type

Lead Source

Lead Medium

Lead Campaign

Lead Content

Lead Keyword

Form Name

Additional Fields

4Test the Zap and log into your WhatConverts account. The "No lead found" will disappear and you'll see the facebook cpc lead listed on your dashboard.

Your Facebook Ad is now live and tracking!
Troubleshooting Facebook Ads
If you do not receive a successful lead submission and you have followed the above steps. Email support@whatconverts.com and we can answer any questions you have about the integration process.