Push your Facebook Lead Ads into WhatConverts as new leads. You will need to use Zapier to connect both applications.
Note: You must have a Zapier account and have an active ad in Facebook Ads Manager. You will also need to accept the WhatConverts
1Log into your Zapier account and select the "Make A Zap" button.


2Select "Facebook Lead Ads" as your Trigger App. Select "New Leads" as your Lead Ads Trigger. Connect your Facebook Leads Ad Account. Select the Page of your Facebook Lead Ad and Form of Your Facebook Lead Ad from the drop-down menus. Click "Test & Review" and select the grey down arrow to view your sample lead. Select the Radio Button next to the sample and click "Continue".
3Click "+" to add an Action App. Select "WhatConverts" as your Action App. Select "Create Lead" and connect your WhatConverts account.
Note: If you have not set up a WhatConverts account in Zapier, you can follow the detailed instructions in Connecting to Zapier.
Set up the Customize Lead page with the field values below:
Lead Type: Select "Web Form" from the drop-down menu
Profile: Select your WhatConverts Profile from the drop-down menu.
Referrer Source: Type "facebook"
Referrer Medium: Type "cpc"
Referrer Campaign: Select "Campaign Name"
Referrer Content: Select "Ad Name"
Under Additional Fields, type in the field name and select the corresponding field from the drop-down. In the example below:
Contact Name: "Full Name"
Form ID: "Form ID"
Email Address: "Email"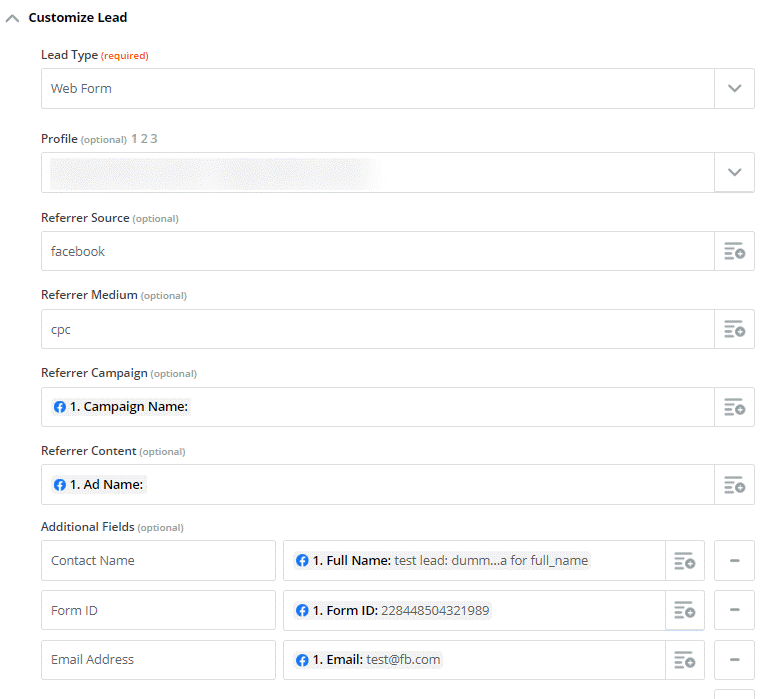 Click "Continue". Select "Test & Continue" to send the sample lead to WhatConverts. Give your Zap a Name and turn your Zap "On".
4Log into your WhatConverts account. You'll see the facebook cpc lead listed on your dashboard.