Important Note: Skip Step One if the following article has already been completed, "Sending Phone Calls to Pipedrive".
1Go to your PipeDrive account and click "Settings"; select the "Customize Fields" option. Click on the "People" tab and select the, "Add a Field" button.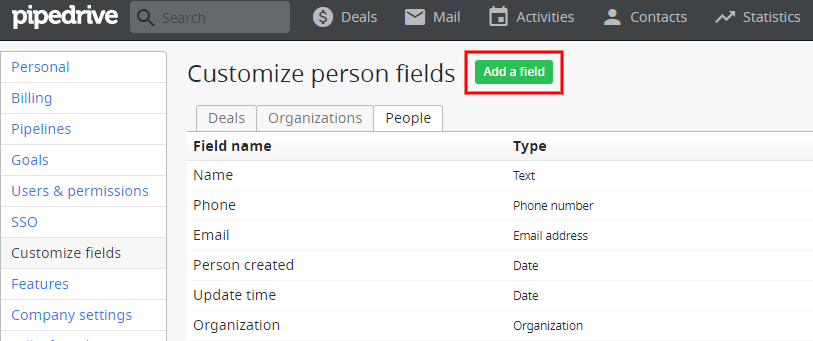 Choose "Numerical" as your field type. Enter the Field Name: "LeadID". Click "Save".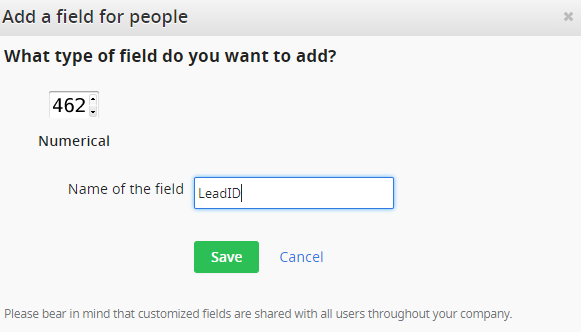 In the chart, make sure the LeadID Field Name has Show in Add New dialog set to "Yes" and Important set to "Yes".
Very Important: Make note and write down the "Field API key" located in the last field.

2Log into your Zapier account and click "Make a Zap". Select "WhatConverts" as the Trigger App. Select "New Lead" Trigger. Click "Continue". Connect your WhatConverts account and continue to the Customize Lead page.
On the Customize Lead page, select "Yes" only for "Web Forms". Select your profile from the drop down and click "Continue". Select "Test and Review". Once the test is successful and you are satisfied with the lead, click "Continue".
3Select "PipeDrive" as your Action App and "Create or Update a Person" as your Action. Click "Continue". Connect your PipeDrive Account with Zapier by clicking on the, "Connect an Account" button. Enter your PipeDrive API token and click "Save & Continue".
Your PipeDrive API token can be found by going to "Settings", "Personal" and "API" located under the Other category in your PipeDrive account.
Edit the data to pass from WhatConverts into PipeDrive by setting your fields to the following below. Make sure to click on the "Insert A Field" button to the right of each field. Match the fields to the fields you have set up in your site's form.
Name: Additional Fields Your Name (This will be the name field from your form)
Email: Additional Fields Email
Once all the fields are set click "Continue". View your data and click the "Finish" button. Name your Zap and turn your Zap "On".
4Go to PipeDrive and select "Contacts" under the navigation menu; select "People" under the drop down menu. The contact lead form information from WhatConverts should now be displaying within PipeDrive.