WhatConverts now allows you to set up a voicemail step in your Call Flow.
How to Set up a Voicemail Step
1Log in to your WhatConverts Dashboard. Under Profile, select "Tracking", "Phone Calls". When the Phone Calls drop down opens, select "Call Flows".
2On the Call Flows page, you can create or edit an incoming call flow to add a voicemail step.
For information on creating a new call flow see:
Locate the Call Flow you have created click the "Gear Icon" to edit the call flow.
3After the Dial step, click "+" and select "Voicemail" to add a voicemail step.
Note: When choosing the Voicemail step, keep in mind the Timeout in any of your Dial steps. If you have a destination phone that has voicemail set up, you will want to make sure that the timeout duration is shorter than how long it takes for your destination phone to go to voicemail. For example, if your personal voicemail is set to begin after ringing for 30 seconds, you'll want to make sure the timeout in your dial step is between 20 and 29 seconds to ensure the call reaches your Voicemail step.

Enter a "Name" for your voicemail step and choose what type of message you would like your caller to hear when they reach this step.
None: Plays no message to your caller.
Say Message: Allows you to type in a message you would like your caller to hear.
Play Recording: Allows you to upload a short mp3 file audio recording for your caller to hear.
Select "Yes" or "No" if you would like your callers to hear a beep after your prompt. Enter a Maximum Length time for your voicemail message.
Click "Update".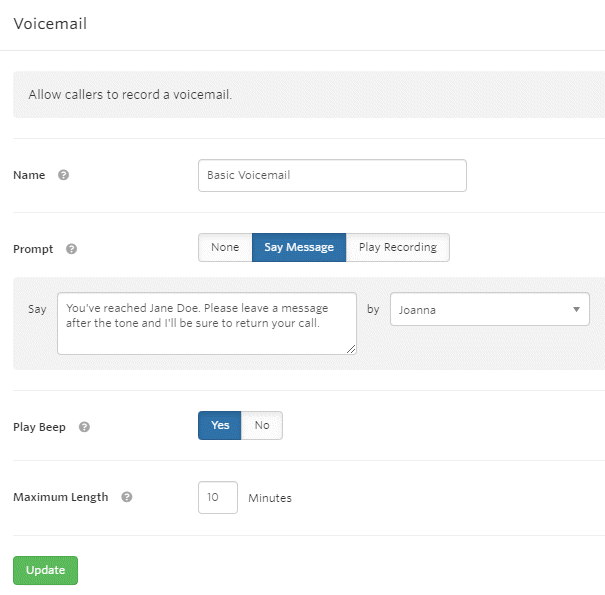 4Scroll to the top of your Call Flow and click "Save Call Flow".