In your WhatConverts account, you can set up a step in your Call Flows that will automatically append data or qualify based on selections made by the caller in a call flow.
The Set Lead Data option will allow you to choose what you would like to set after a point is reached in a Call Flow. This document will show you how to automatically set the Quotable status in a Simple Call Menu.
1To set up the Set Lead Data step in your call flow, log into your WhatConverts dashboard. Select the Account and Profile you would like to set the step up in. Under Profile, select "Tracking", "Phone Calls" then, "Call Flows".
From here, you can either click the "Gear Icon" next to the Call Flow you would like to edit or click "+ Add Call Flow" to create a new call flow.
Note: Please see our Communications help documents for setting up new call flows
2Click the "+" icon before the Dial step to set Lead Data when the dial step is made. Select "Set Lead Data".
3Give your step a name. Determine the Value Type you would like to set.
System Value: This is a set value that is available in WhatConverts by default. With a System Value setting, you can determine if an incoming call is Quotable, the Quote or Sales value or if the call is Spam or a Duplicate lead.
Custom Field: This will allow you to set a value for one of the Custom Fields that you have currently set up in your WhatConverts profile.
Other: This will allow you to set a field and a value for the field.
In the example below, the call will be automatically marked as Quotable when the caller selects Sales from the call menu.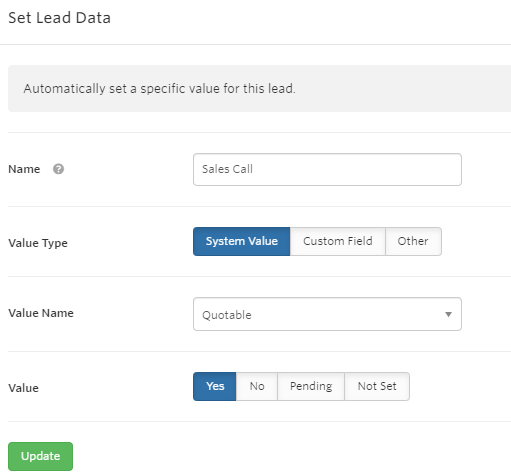 Click "Update". You will now see the Set Lead Data step before your Dial step.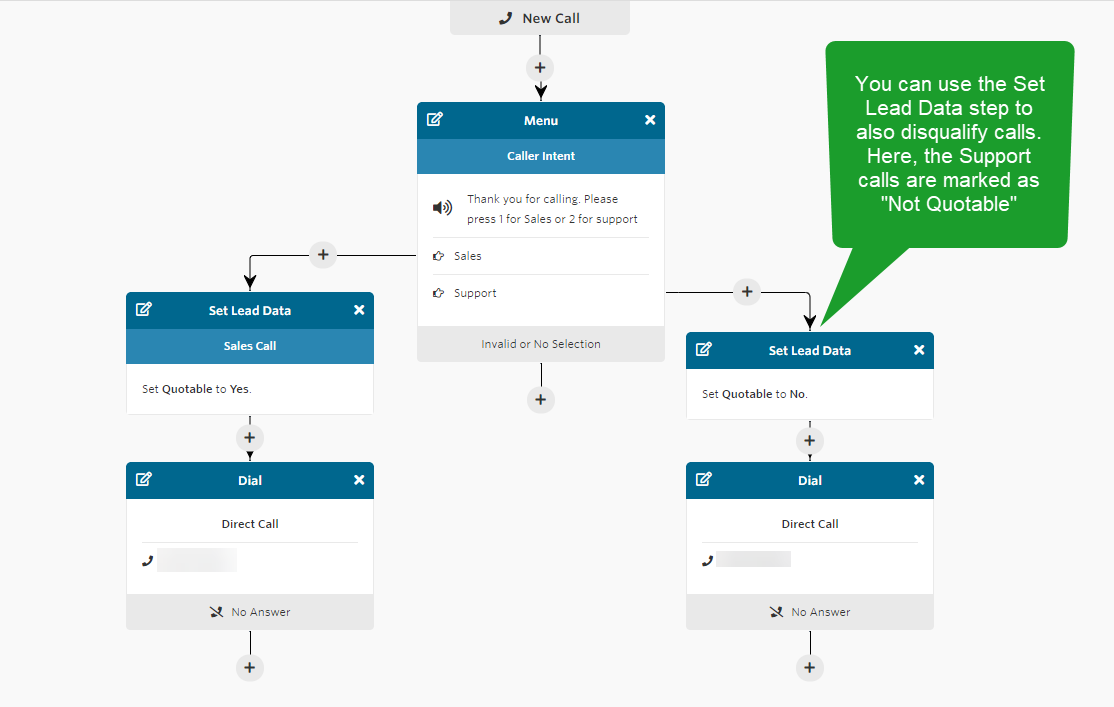 4Click "Save Call Flow" above your call flow chart.