One of the key challenges to evaluating conversions is measuring the quality of call only ads and call extensions within Bing Ads. Because call extensions clicks never actually land on your website, WhatConverts is unable to associate the call with a specific Bing Ads visit (MSCLKID). This means we are unable to send those types of conversions directly into the Ads interface, but WhatConverts has a way of recording those calls while tracking the conversion.
Create a Tracking Number for Bing Ads Call Extensions
1Within WhatConverts, create a Tracking Number that will be used exclusively as either a Call Only Ad or a Call Extension. Give the tracking number a name that will make it easy to identify such as, "Bing Ads Call Extension". Make sure the Dynamic Number Insertion option is "Off" for the tracking number as the number will be used as a static number only.
2Go to your Bing Ads account and setup a Call Extension. Under All Campaigns, select "Ad Extensions". From the View drop-down, select "Call Extensions". Click "+ Add new Call Extension".
Select your Country/Region, then paste or type the tracking number that was setup in WhatConverts as the Phone Number and enable call tracking by selecting the, "Yes, I would like to track my calls using a Microsoft Advertising forwarding number" in order to count your calls as conversions in Bing Ads.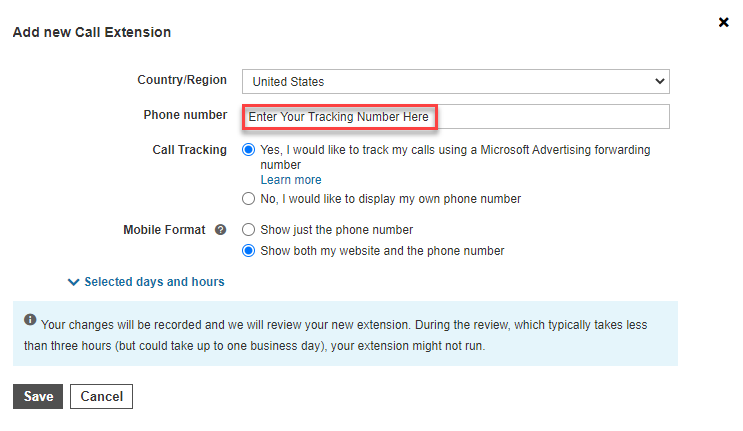 Once the call extension has been setup under Bing Ads, WhatConverts will track and record all phone calls that are generated from your call extension, but Bing Ads will record the conversion.