1In your WhatConverts profile, click "Tracking" from the top menu. Click "Integrations". Click "View Details" under Google Analytics.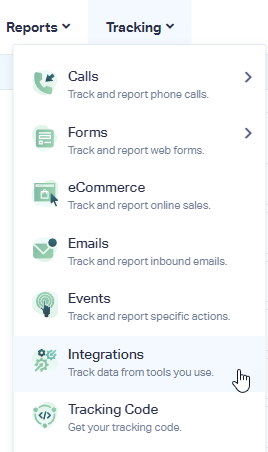 2Select "Add Property" from the left side menu. For Universal Analytics, add your Google Analytics Tracking ID and click "Next Step".
3Select the Lead Types that you would like to pass to Google Analytics and click "Finish".
Note: Your leads will be sent to Google Analytics as Events. To see your Events in your Traffic Data, you will need to set up Goals. The following articles go over how to set up Goals by Lead Type in Google Analytics:
Connect WhatConverts to Google Analytics
Login to your WhatConverts account.
Select the "Integration", then "Google Analytics" menu item.
Add your Google Analytics Tracking ID. and we will send events based on leads tracked in WhatConverts to your Google Analytics account.To retrieve your Google Analytics UID, sign in to your Google Analytics account. Click on the "Admin" tab at the top and make sure the correct "Account" and "Property" are select. Then click on the "Tracking Info" and select "Tracking Code". You should see your "Tracking ID", copy and paste that value below.
Choose what Leads to send to Google Analytics under "Lead Types to Track".
See Lead Events in Google Analytics
Login to Google Analytics and select the "Behavior", then "Events", then "Overview" menu items. Take notice of Total Events and Unique Events.
Note: At times there is a discrepancy in the number of unique events when comparing WhatConverts and Google Analytics data. This is due to our data range philosophies. WhatConverts looks at unique visitors all time, but Google Analytics looks at a selected date range or 30 days by default.
WhatConverts should now be showing in your Event Categories. We use the event category "Phone Call" for calls received and "Form Submission" for web form submissions.
Viewing events does provide some insights. Events can also be used to create advanced segments in your Google Analytics reporting.