When testing your website, you'll always want to make sure that you have cleared your cookies to test your trigger. This article shows you two options to remove your cookies in order to test your number swapping.
For more information on testing and simulating a Google Ads click, see our article on Simulating a Google Ads Click.
How to Clear Your WhatConverts Cookie and Test a Google Ad Click
Open new browser session and enter this URL:
http://www.YOURWEBSITE.com/?wc_clear=true&gclid=test
Note: adding "?wc_clear=true" to the end of your URL clears the current attribution from WhatConverts tracking cookie.
Clear Cookies by Browser
Google Chrome
Mozilla Firefox
Safari
Microsoft Edge
Clear your WhatConverts Cookies Without Deleting all your History
1In your browser, right click on your page and click "Inspect". In the Inspect Menu, select "Application". On the left side, click the down arrow to the left of Cookies. Locate your URL and click on it to view all of your cookies.
2Locate "wc_swap" and "wc_client" in the right side menu. Remove these two cookies.
3Visit your page from your chosen Trigger Source (such as Google Organic).
Clearing your Cookies in Google Chrome
1At the top right of your Chrome browser, click "More". Click "More tools" and then "Clear browsing data".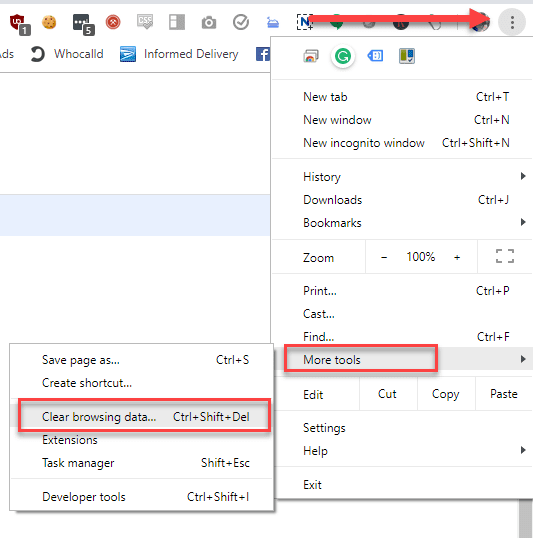 2At the top, choose a time range. To delete everything, select "All time". Next to Cookies and other site data and Cached images and files, "check" the boxes. Click "Clear data".
Clearing your Cookies in Mozilla Firefox
1Visit your URL and click the small "Site Info" icon to the left of your URL. In the box that appears, click "Clear Cookies and Site Data".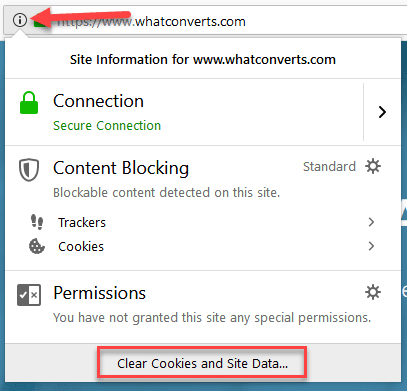 2On the pop up window. Click "Ok" to remove your cookies and site data.
Clearing your Cookies in Safari
1In the Safari app on your Mac, choose "Safari" then "Preferences". Click "Privacy".
2Click "Manage Website Data", select one or more websites, then click "Remove" or "Remove All".
Clearing your Cookies in Microsoft Edge
1Click the "Three Dots" in the top right of your browser. Click "Settings".
2Under Clear browsing data, select "Choose what to clear".
3Select the "Cookies and saved website data" check box and then select "Clear".